Take Your Home's Decor to the Next Level with Vertical Concrete Resurfacing
Sometimes a new coat of paint or swapping out accessories for new colors is not enough to really give a space a makeover. If you've been looking around your home and thinking "dullsville," why not do something amazing with your walls and bring in three-dimensional faux stone finishes with stamped and hand-carved vertical concrete resurfacing?
This bathroom is completely transformed with an authentic-looking hand-carved limestone accent wall. Actually, it's a vertical concrete overlay that is seamless, extremely durable and a fraction of the cost of real stone. Vertical concrete overlays from Concrete Craft® are the ideal way to enhance your home with the popular look of stone and rock finishes, inside and out, for basements, patios, fireplaces, siding, retaining walls, and more.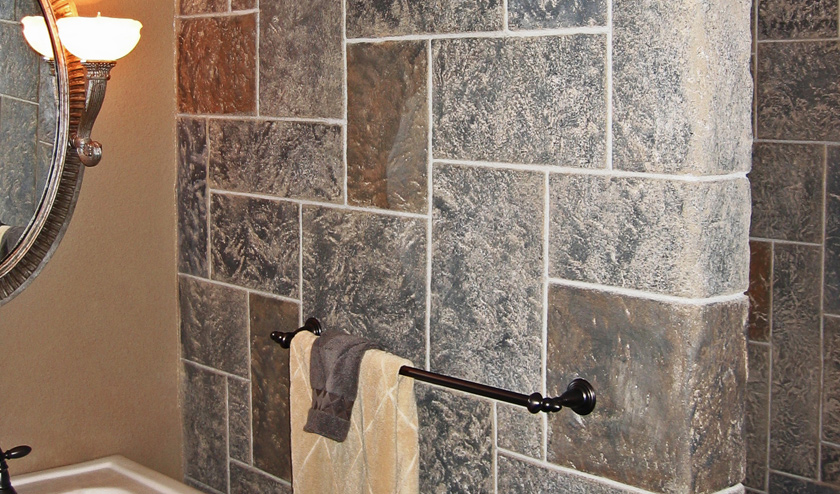 Unbeatable beauty and durability
In wet climates like South Carolina in the summer and Alabama and Georgia in the winter, grouted stone surfaces can deteriorate over time. Moisture can work its way in and weaken the grout, loosen the stones and eventually require repair of portions of a wall or the entire surface. This can be expensive and the patched areas may not match the original stone or grout colors.
Vertical concrete resurfacing eliminates all those issues and ensures years of carefree beauty and functionality. You can have realistic-looking rock and stone finishes without grout deterioration, loose stones or discoloration since our industry-tough, non-porous sealer resists moisture, mold and bacteria, stains, chipping or peeling and the "grout" is an integral part of the design. This Mountain Drystack resurfaced vertical concrete siding will give worry-free elegance for decades. The surface is easy to clean and, although it looks like there are nooks and crannies between the stones, there are none to harbor dust, dirt and insect infestation so common to home exteriors.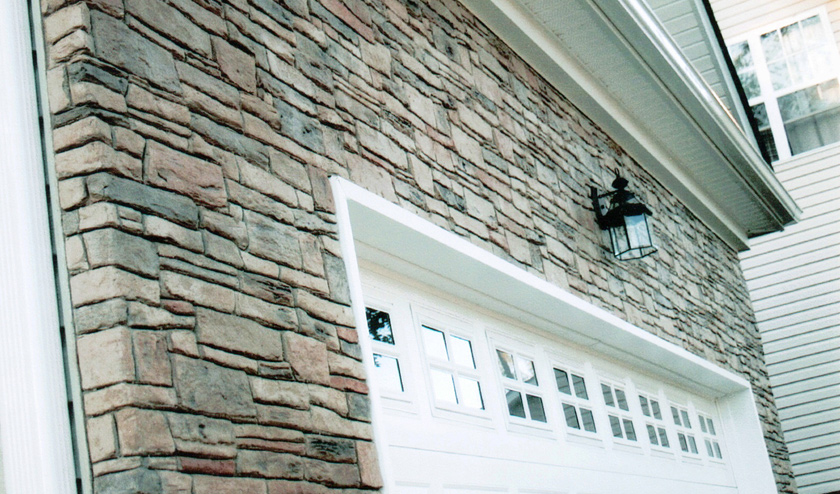 Vertical concrete resurfacing can be applied over concrete, brick, plaster, drywall and wood—just about anywhere inside or out—to cover up imperfections or revive worn-out vertical surfaces. Without any major demolition required, you can have incredible spaces, including:
Arched entryways and storefronts
Fireplace fronts and chimneys
Interior accent walls
Backsplashes over sinks and stoves
Retaining walls and exterior privacy walls
Basement walls and wine cellars
Vertical concrete resurfacing is not limited to walls. Concrete Craft's seat wall and fire pit system enables creation of shorter verticals, even enhancing steps with the look of real stone. Retaining walls, knee-high walls to border flower beds or define spaces, seat walls on patios, and fire pits for activity areas bring the beauty of stone to your yard. See what can be done with vertical resurfacing to update your outside spaces with these two projects from Concrete Craft of North Denver.
The combination of the new stained concrete floor on this patio and the faux stone siding on the seat walls and steps give new life to a tired backyard. The seat walls frame the patio and provide permanent, convenient seating for all the activities that will take place once the barbeque and patio furniture are installed. The entire surface can be quickly hosed off so it's always clean for the next adventure.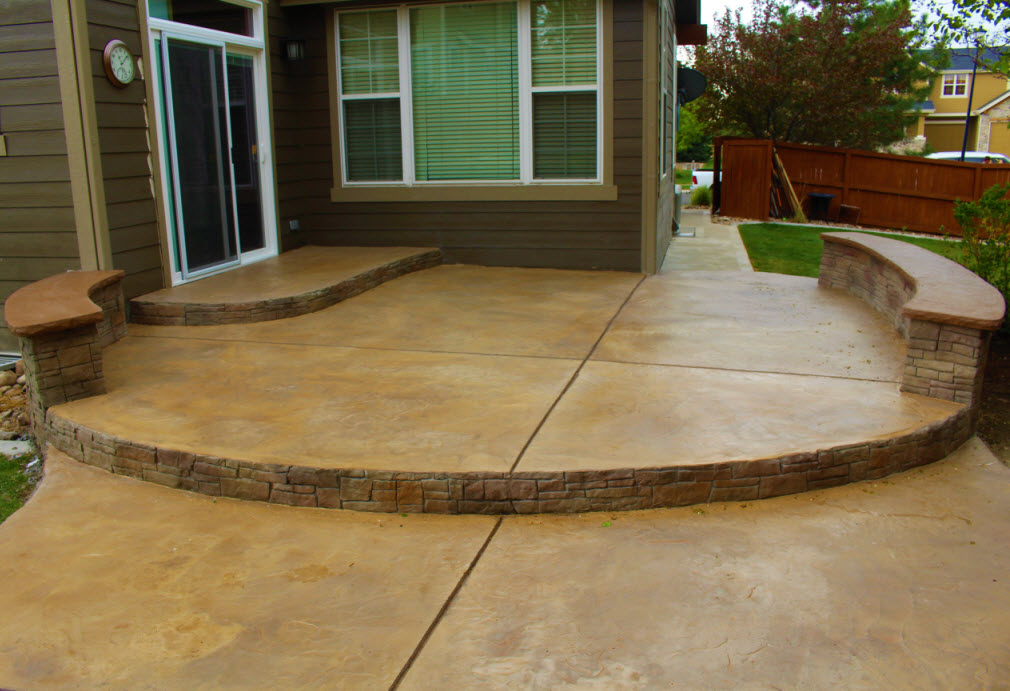 This garden's impact is magnified by the vertical concrete overlay on the garden wall. The hand-cut flagstone design adds brilliant color that will enhance the setting even when the flowers aren't blooming. Another advantage for a lazy gardener is that they can sit on the seat wall to weed, trim and tend the garden.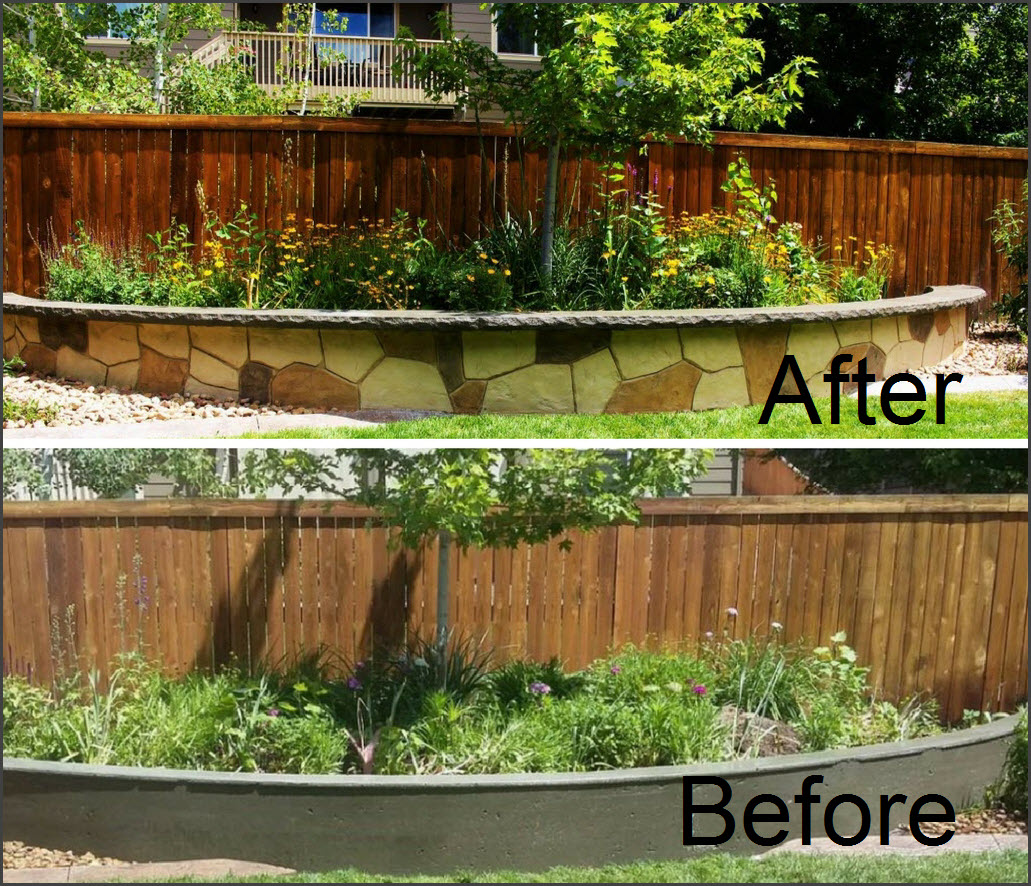 Unequaled value and excellence
Homeowners and business owners alike are embracing the growing design trend of stone as an enhancement to add beauty, function and value to interior and exterior vertical spaces. But with real stone or rock comes higher costs, load-bearing issues (a wall of stone can be very heavy) and complexity of application, including time and intrusive equipment (cement trucks, jackhammers, rock haulers). Concrete Craft's proprietary processes and products can replicate natural stone on vertical surfaces with custom, hand-cut resurfaced concrete overlays for far less money, time and mess. Plus, the expertise and exemplary craftsmanship of Concrete Craft artisans are not available with other decorative concrete companies.
Fiber-enriched sand overlay mix creates a realistic stone surface
Hand-cut stone shapes give the look and feel of natural stone
Custom, hand-crafted concrete can mimic any natural rock, with more consistent color overall
The size and shape of stones or pattern can be adjusted to fit any unique space, shape or dimension of the wall, including around corners and into narrow spaces
The durability of concrete is a big plus; it can withstand extreme temperatures and wet and dry conditions without breaking down
Work and materials have a two-year warranty
Practically limitless custom designs and colors
Some of our more popular styles for vertical concrete overlays include European Fan, Random Sandstone, Orchard Stone, Mountain Drystack, Hand-scored Limestone, English Cobblestone, Hand-carved Stone and Hand-carved Castle Rock.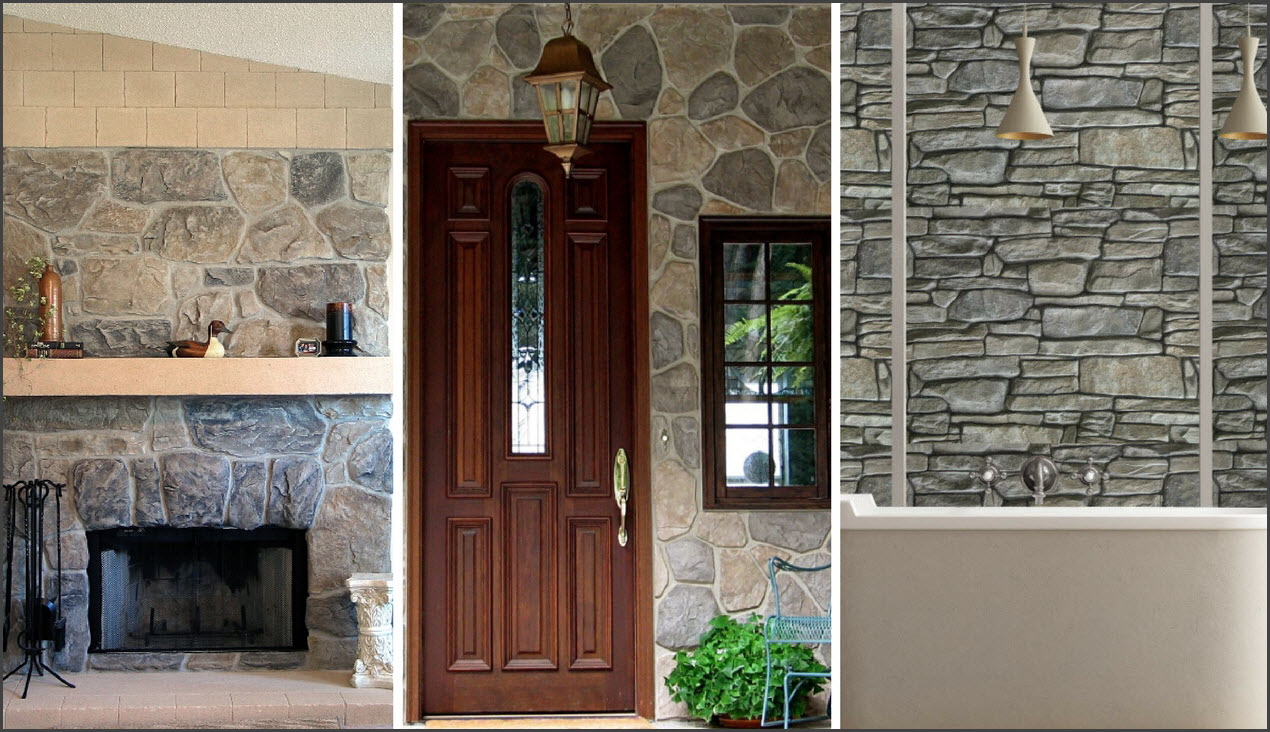 If you're looking for that extra-special "something" to spruce up you home, vertical concrete overlays can bring your home into the new Stone Age! Call 866-813-3699 today to find the Concrete Craft location nearest for a FREE estimate. Also check out the online photo galleries for stained, stamped and resurfaced patios, driveways, walkways, pool decks, and more. If decorative concrete is a new concept for you, follow the links to learn more.